University Of Birmingham Global Masters Scholarships
Tuesday, 12 October 2021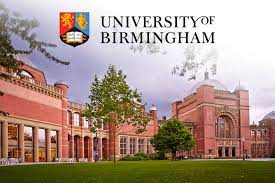 Application Open :
00 d 00 h 00 m 00 s
University of Birmingham menawarkan 30 beasiswa senilai £10,000 kepada mahasiswa dari negara-negara yang memenuhi syarat untuk mengejar program Magister yang diajarkan selama satu tahun di Universitas pada tahun 2021/22.
Institusi:
Universitas Birmingham, Inggris Raya
Bidang studi:
Memenuhi syarat satu tahun mengajar program gelar Master yang ditawarkan di Universitas
Jumlah Penghargaan:
30
Kelompok sasaran:
Siswa internasional dari negara-negara berikut:
Aljazair, Kanada, China (RRC), Mesir, Ghana, Hong Kong (SAR of RRC), India, Indonesia, Kenya, Malawi, Mauritius, Maroko, Nigeria, Pakistan, Seychelles, Taiwan, Tanzania, Thailand, Tunisia, Uganda, Zambia , dan Zimbabwe.
Nilai/inklusi beasiswa:
£10,000 untuk biaya kuliah
Kelayakan:
Agar memenuhi syarat, kandidat harus memenuhi persyaratan berikut. Kandidat harus:
• Telah menerima, dan menerima, tawaran masuk untuk gelar Master yang diajarkan di Kampus University of Birmingham UK untuk belajar pada tahun akademik 2021/22.
• Diklasifikasikan sebagai 'berdomisili' di salah satu negara yang memenuhi syarat (lihat di atas)
• Diklasifikasikan oleh Universitas sebagai pembayar biaya luar negeri untuk keperluan biaya kuliah.
• Memulai studi mereka di Universitas pada bulan September/ Oktober 2021 dengan kursus yang diberikan di kampus.
• Jadilah luar biasa secara akademis dan mampu memberikan bukti untuk ini dalam pernyataan aplikasi beasiswa. Kandidat juga harus memiliki, atau berharap untuk mencapai, nilai keseluruhan kelas satu (setidaknya 70% dalam sistem Inggris) dalam gelar sarjana atau setara.
Silahkan isi form dibawah ini untuk info lebih lanjut: