GRATIS Material Fee Di Salford College, Australia
Friday, 08 October 2021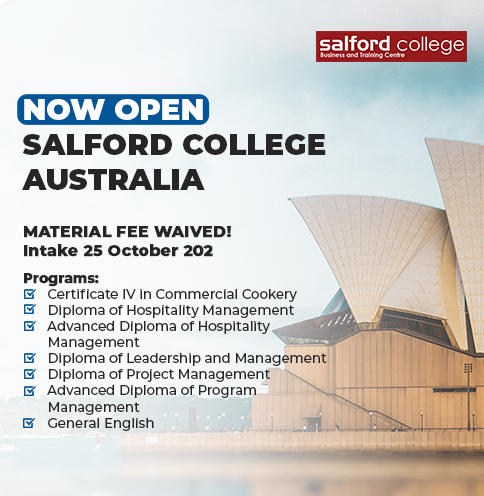 Application Open :
00 d 00 h 00 m 00 s
Salford College, adalah salah satu penyedia pelatihan swasta terbesar dan terlama di Australia. Lebih dari 2000 siswa telah lulus dari salford college selama 8 tahun terakhir dan kami bangga memiliki pelatih yang sangat berkualitas dan berpengalaman untuk memberikan kursus kejuruan dan bahasa terbaik kepada siswa kami.
Saat ini Salford College telah membebaskan Material Fee untuk calon mahasiswa yang mendaftar program mereka.
Beberapa program yang ditawarkan antara lain:
Certificate IV in Commercial Cookery
Diploma of Hospitality Management
Advanced Diploma of Hospitality Management
Diploma of Leadership and Management
Diploma of Project Management
Advanced of Diploma of Program Management
General English
Hubungi kami untuk info lebih lanjut ya!
Contact Person:
Admin 1: +62 857-5448-4494
Admin 2: +62 858-2866-9282
Silahkan isi form dibawah ini untuk info lebih lanjut: