GET UP TO A$ 45,000 UWA GLOBAL EXCELLENCE SCHOLARSHIP
Friday, 24 July 2020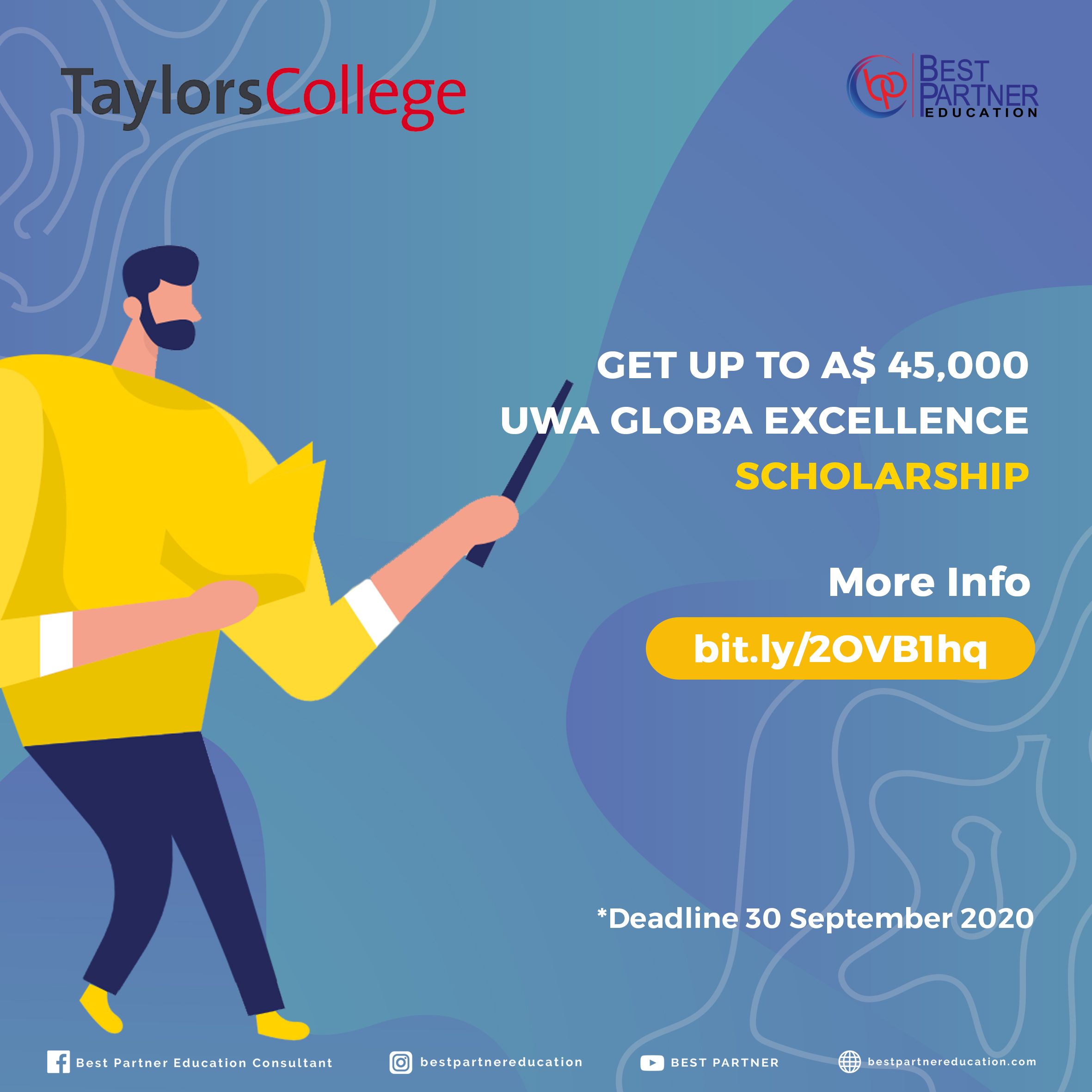 Application Open :
00 d 00 h 00 m 00 s
DESCRIPTION
The University of Western Australia (UWA) provides you with a qualitu education at a world top 100* university that will set you apart in the marketplace. At UWA, you will be in the company of other high achieving students from all over Western Australua, Australia and the world.
Here are some reasons why UWA is a wise choice
Group of Eight Australia - A member of the prestigious Group of Eight Australian universities.

Ranked 86th in the world (QS World University Rankings 2020).

5 stars - Achieved five stars for student retention, student demand, and student: teacher ratio (Good Universities Guide 2019).

Fastest rising university in the world outside of China (Academic Ranking of World Universities and QS).

100 years old. For the past 100 years, UWA has contributed significantly to the intellectual, cultural and economic development of the State of Western Australia and the nation as a whole.
PROMO DETAIL
1. Enroll to October 2020 intake and get A$ 10,000 scholarship
2. Must enroll UWA foundation programme or Diploma of Commerce or Diploma of Science
3. Will have a chance to get up to A$ 45,000 UWA Global Excellence Scholarship.
REQUIREMENTS
For requirement needed, you can reach our counselor here
DEADLINE
Deadline for enrolment is 30 September 2020

REGISTER
You can register yourself at the Best Partner Education office. Our education consultant will help you to manage all the requirements.

Our Office Location:
Jl. Prof. DR. Hamka Gg. Nilam 3 No.Depan, Sungai Jawi, Kec. Pontianak Kota, Kota Pontianak, Kalimantan Barat 78115
or you can reach this number
(0561) 8172583 and Best Partner Counselor

Silahkan isi form dibawah ini untuk info lebih lanjut: