DISCOUNT A$ 500 FOR GEORGE BROWN COLLEGE NEW STUDENTS
Saturday, 25 July 2020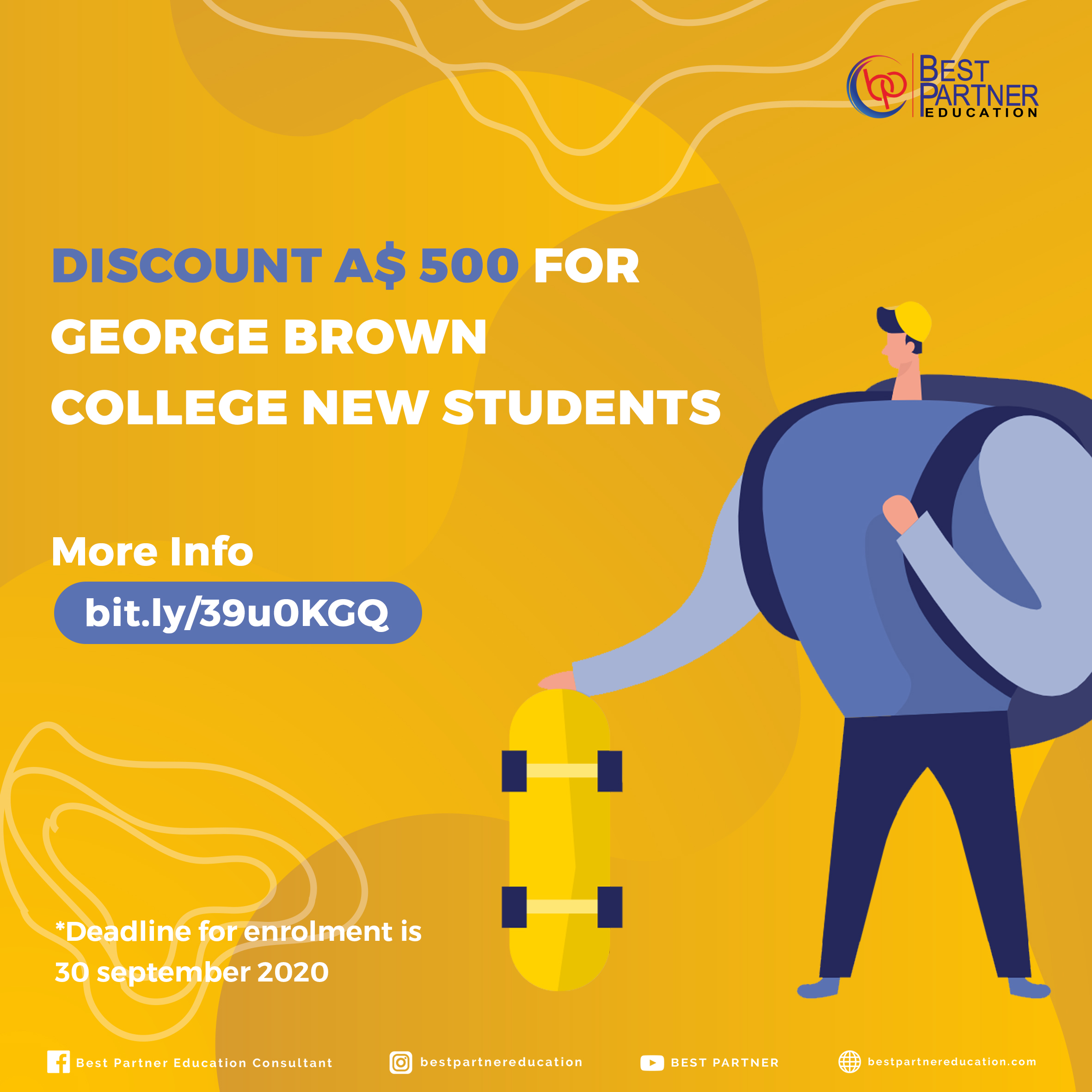 Application Open :
00 d 00 h 00 m 00 s
DESCRIPTION
George Brown College (GBC) (ABN 94 134 936; Provider 91707; CRICOS 03208d) is a resgistered training organisation (RTO) located centrally within the Sydney CBD on Level 4,56-58 York Street Sydney. GBC is located right next to the queen Victoria Building and is within walking distance from many local attractions, including cultural and historical places. Some attraction include the Rocks and the Harbour Bridge, sydney Opera House, The Royal Botanical Gardens, Darling Harbour, the State Library, Chinatown, Sydney Tower and Pitt Street Mall centres.
As a Registered Training Organisation, the College can deliver nationally recognised training qualifications and accredited courses supported by a quality assured curriculum, meeting Standards for Registered Training Organisations, National standards for ELICOS providers and courses requirements and ESOS act. All improvement suggestions and complaints are identified and appropriately addressed and recorded.
A prime focus of the College is continuous improvement – this means we continually look for ways to improve student satisfaction through all parts of our training courses including orientation, training delivery, assessment, evaluation and support services. The feedback and survey results that we receive from our stakeholders are used to improve the operations of the organisation.
PROMO DETAIL
1. Discount A$ 500 for new students enrol
2. Valid for 1st term only
3. Promo valid for all courses in GBC
REQUIREMENTS
For requirement needed, you can reach our counselor here
DEADLINE
Deadline for enrolment is 30 september 2020

REGISTER
You can register yourself at the Best Partner Education office. Our education consultant will help you to manage all the requirements.
Our Office Location:
Jl. Prof. DR. Hamka Gg. Nilam 3 No.Depan, Sungai Jawi, Kec. Pontianak Kota, Kota Pontianak, Kalimantan Barat 78115
or you can reach this number
(0561) 8172583 and Best Partner Counselor
Silahkan isi form dibawah ini untuk info lebih lanjut: